Winter Camp
Partners In Adventure
2017 Winter Vacation Camp
February 27 to March 3
Serving young people with disabilities, ages 7 and up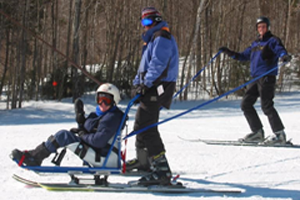 WHAT: Partners In Adventure is offering a full week of adaptive seasonal activities.
Winter Camp activities are designed to make sure that all outdoor activities are combined with warm indoor activities.
WHEN: 2/27/17 to 3/3/17
Chittenden County February school vacation week
TIME: 9AM to 4PMDROP OFF LOCATION: Essex Alliance Community Center, Essex
LOCATIONS: Calendar of daily activities will be sent to you in advance of the camp.
All drop off and pick up locations will be in Chittenden County.
ACTIVITY POSSIBILITIES: Ice fishing, 4-wheeling and an outdoor barbeque on Mallets Bay; horseback riding, bowling, dancing, yoga, movies, swim, crafts, games, music, party and more. (plans subject to change depending on weather, etc.)
COST: $300
Sorry, no scholarships available for Winter Camp.
No partial week sign up available.
Limited enrollment, first come, first serve.
Campers who require an assistant at school must be
accompanied by an assistant at camp.
Mail or FAX application to:
Partners In Adventure, Inc,
P.O. Box 867
Shelburne, VT 05482
FAX: 802-425-6311
For questions please email:
Sue Minter Administrative Assistant
sminter@partnersinadventure.org or call 802-879-8302